If you've subscribed to DarrenDaily, will take at least 24 hours to receive your first message. Many of our members have built morning routines around this fantastic FREE resource from Darren.
Verify Your Preferences Are Up to Date:
The easiest way for you to review & opt in or out of the DarrenDaily emails is to locate an email we've sent you in the past, and update your email subscription preferences:
Locate a previous DarrenDaily email (from either DarrenHardy.com or DarrenDaily.com email address)
Scroll to the bottom and click on update preferences
Make sure the DarrenDaily box is checked
Click update email preferences
Please note: Our team is unable to resubscribe on your behalf. You, the recipient, must take action from your email system in order to receive DarrenDaily emails again.
How to Approve Delivery of Darren Hardy's Emails:
If you have updated your preferences and are not receiving emails, there are few steps you can take to ensure that DarrenDaily emails are delivered to your inbox. Doing so will verify that your domain trusts emails coming from our address.
Add DarrenDaily@darrenhardy.com to your email address book
Request from your IT/Email team to whitelist DarrenDaily email sending domain and IP address
Move any DarrenDaily emails found in your SPAM/Junk folder into your inbox
Change the Email Address Where You Receive DarrenDaily:
If your email address has changed, visit the DarrenDaily site to sign up with your new email address. To stop receiving emails at an account, follow the steps above to review and update your email preferences.
Merge Email Accounts:
To merge your email accounts into one member record, please submit your request here with your primary email and secondary email so our team can blend the accounts together under one set of preferences.
If You Still Have Not Received Your DarrenDaily:
In the case that you have still not received your DarrenDaily, please try clearing the cache and cookies from your device you are viewing from, and then resubscribe to DarrenDaily at DarrenDaily.com
If you need assistance, please reach out to an A-Team member and we will be happy to assist.
_________________
How to Add Darren Hardy to Contacts in Gmail

From an existing email in Gmail:
Open an email from DarrenDaily@darrenhardy.com OR Darren@darrenhardy.com
Hover over the "from" name Darren Hardy
Click "Add to Contacts"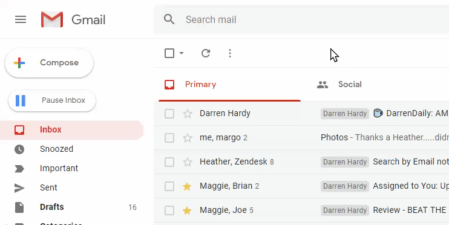 Create a new contact in Gmail:
Login to your Gmail account
Click the + button for "Create Contact" (at the bottom right of the screen)
First Name: Darren Last Name: Hardy
Enter darrendaily@darrenhardy.com and darren@darrenhardy.com into the email address field
Click "Save"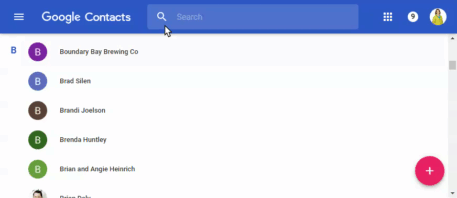 Note: If the mailing is in your SPAM folder, check the box next to the mailing and click the "Not Spam" button along the top.
Every email program is a little different. If you don't use Gmail, find yours in this article: