How does the DarrenDaily Champion program work?
At the bottom of each DarrenDaily email and on each DarrenDaily episode page, you will find your custom share code and Champion Hub link. The code is what you send to everyone you know and champion them to register for DarrenDaily, and your Champion hub is where you can track your progress and gifts.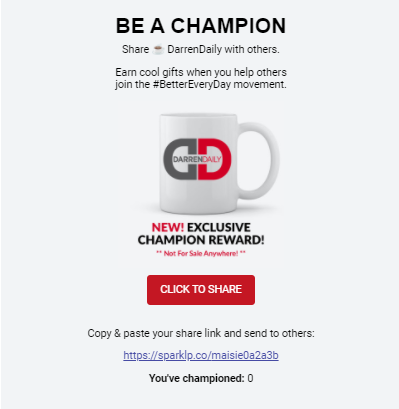 How do I get credit for sharing DarrenDaily?
Scroll down to the "BE A CHAMPION" section of your daily DarrenDaily email and hit the "CLICK TO SHARE" button to access your personalized Champion hub. From there, you can share DarrenDaily through email, social, and more. *Your friend must become a DarrenDaily member (it's always 100% free!) for you to get Champion credit.
Where can I find my Champion count (how many people have joined DarrenDaily from my link)?
Scroll to the bottom of any DarrenDaily email and hit the "CLICK TO SHARE" button. Your Champion count will be shown there.
I keep sharing my link with people, but my Champion count isn't changing.
After someone clicks on your link, they need to join DarrenDaily. After they receive their DarrenDaily welcome email, your Champion count should be updated within a few hours. So if you're not seeing your count updated, it means you need to bug your friends to officially register for DarrenDaily! *Your link does not expire!
What are the milestone gifts?

I reached a gift milestone, how can I redeem?
When you reach a gift milestone, you will be sent an email with instructions. It will come from Mariana@DH.DarrenHardy.com.
I live outside of the U.S., am I still eligible to receive these gifts?
Yes! We are able to ship the gifts to any domestic or international mailing address.